Thursday, 23 June 2011, 12:53 - Starcat

My Indie-way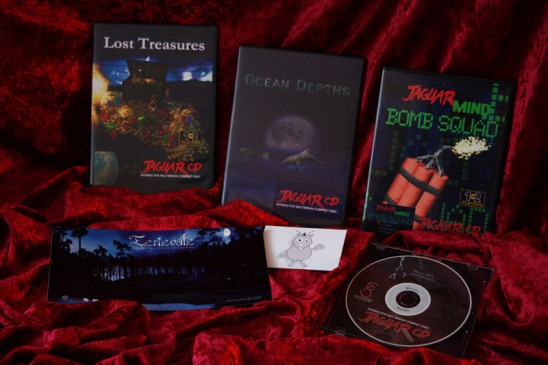 As you probably know, the development of games is one of my greatest passions. In this fascinating discipline most of my creative interests unite. Writing, graphics, game design, programming and many more.
I love the intoxicating and inspiring feeling, to be on track of a great idea. To shape it and to see it grow every step of the way, to create something special.
I was fourteen years old, when I started from scratch to teach myself everything I needed to know about game development.
The console- and computer games of the 80ies and 90ies were a big source of inspiration and the archetype of the kind of games that I always loved and wanted to focus on.
The ideals behind these games, such as creativity, passion, attention to detail when it comes to gameplay and the resulting pure fun when playing, where what made videogames big as a medium, in my opinion. However I felt a change as time passed. Fewer new games remained true to these promises.
I began to develop games for the Atari Jaguar video game system, which had the reputation of being a special challenge to develop for.
Slowly I went from one idea to the next, from one project to the next and with each one, I learned something new and began to outgrow myself. Things that seemed impossible suddenly were more in reach than ever.
It was my biggest interest and I put every minute of my spare time into it, because I dreamt not only to develop something that people would enjoy or find exciting, but I also had the vague hope of making my hobby into a profession one day. I had no idea how though.
A lot of time has passed since. More than twelve years in fact.
In the meantime I studied game design, completed it and worked half a year in the industry as game designer, concept author and "whatever-else-needed-to-be-done". Of course without pay, how else these days?
Nevertheless I did my best and created promising concepts. One was immediately financed by a big german publisher. In the very moment I gave the concept out of my hands, somebody else quickly wrote his name onto it. I kept working hard, hoping to get a foot on the ground at this company. To actually get a paid job. However I had to realize that it was nothing but false promises, exploitation and that I threw away my talent and everything I worked for all those years. I decided to go my own way.
I had the chance to chase a few dreams. I poured my heart and soul into them and could see them grow. Some dreams came true, for a while.
However I lost track of what really was important to me.
I worked too hard to make my hobby into a profession. I am not a material person and money means little to me, but of course one has to make a living somehow.
I lost track of what my dream really was about.
About self-realization, creativity, inspiration, attention to detail in gameplay, the joy of development and finally fun games. It was about creating something that really convinced me and was exactly how I envisioned it.
However that was not everything. I don't live to work. I live for life and for the people that are in my heart.
Stephen King writes in his book On Writing: "Life is not a support system for art. It is the other way around."
The man is right.
I still develop games and I do it out of passion, just the way it is meant to be.
Since the beginning of this year I took a new direction in my profession. I now develop web applications for a living.
It's fun enough, offers some security and equitably payment, along with decent working hours. All that what I never found in the game industry here in Germany.
I went back to the roots of my passion for game development and I'm richer in experience. I'm still pursuing my creative interests, even if they are more limited by time now.
At least I finally got a big step closer to my Indie-way as I understand it and I'm happy to walk this path.
I'm a writer, game designer and indie game developer out of passion. I create games the way they are meant to be.
On a sidenote, in the near future I'll re-release my demos and games as donation ware on my website. They will be available as free downloads. It's your decision if you want to support me and my projects. Of course I would really appreciate it, if you did. 🙂
Stay tuned for more news.
Best regards, Starcat