Eerievale - Multi-Platform
Eerievale is a classic point & click graphic-adventure. The plot of the gothic fantasy story leads the player to an American town around 1900 with Victorian influences encompassing a dark past.
The game is based upon a novel especially written for the project, the game's focus lies on the traditional values of the genre: Narrating a thrilling story in combination with high quality game design.
Screenshots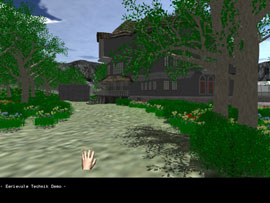 Genre: Adventure
System: Multi-Platform
Status: Playable Demo
Credits:
Writing, Graphics, Game Design, Programming by Lars Hannig
Trivia:
The game uses a custom developed game engine called "EerieEngine", which also is used in other adventure projects by Lars Hannig.